We have seen many celebrities at the Lux Style Awards 2016 dressed in their glamorous ball gowns and tuxedoes or suits designed by famous designers who break their backs to pull off those amazing outfits. They bring us latest fashion trends and some fresh new ideas on the red carpet and it is considered a platform for the celebrities and as well as the designers to show the audience and the paparazzi what's new and what's not so new, what's in and what has been used for so long that it is time to throw that trend out of the window. Sadly, not all the celebrities and designers were successful to impress the audience with their looks. Some really great celebrities surprisingly were the worst dressed at the Lux Style Awards but there were some who made the audience go gaga with the looks they pulled off for the evening. Let's take a look at the best and worst dressed celebrities at the Lux Style Awards 2016.
SEE ALSO:- Lux Style Awards 2016 Winners, Highlights and Big Moments
The Best Dressed
1. Mahira Khan
Very much predicted that Mahira Khan was the best dressed at the Lux Style Awards. This beauty was dressed in a baby pink ball gown designed by an Egyptian designer, Shahira Lasheen. Mahira does not only mesmerizes the audience by her acting on the TV screens but also her dressing and her overall look made the audience swoon over her. She was not only the best dressed but she also took home 2 awards for best actress (TV & Film) and of course the best dressed award goes to this glamorous lady.
2. Fawad Khan
No doubt the heartthrob of our industry would be the best dressed at the Lux Style Awards. He wore Republic by Omar Farooq. He looked subtle yet glamorous in his suit. He was the center of attention and the audience went gaga over him. So, the best dressed was none other than our favorite superstar Fawad Khan.
3. Sadaf Kanwal
Sadaf Kanwal look absolutely stunning in lilac designed by Nomi Ansari. The model never fails to mesmerize the audience by her hard work and her peculiarity with style. Sadaf kept it simple with the color but the style and the cut of her outfit set the red carpet on fire.
4. Hamza Ali Abbasi
Hamza Ali Abbasi kept it simple with black shalwar kameez and waistcoat and we must say that this simple combination made him the best dressed celebrity of the evening. He claims that this shalwar kameez is 4 years old and he has worn this to the last two events as well. Well, no doubt this outfit paid off and he won the best dressed award. Bravo Hamza, Bravo!
5. Mawra Hocane
Last but not the least, Mawra Hocane looked absolutely gorgeous in a striped off-shoulder gown designed by HSY. It is often said that one can never go wrong with black and Mawra showed us that a black gown looks truly glamorous. Doubtless that Mawra stole the limelight with her elegant ensemble on the red carpet.
The Worst Dressed
1. Ali Xeeshan
He is mostly known for his notorious style sense and vibrant designs; Ali Xeeshan, we are sorry to say was the worst dressed at the Lux Style Awards. He failed to impress the audience with his outfit and he looks more like a Chinese Villager than a fashionable designer. This outfit is neither eastern or western more like a confused child dressed him.
2. Momal Sheikh
Another fashion blunder was made by the actress Momal Sheikh. This baby pink gown with silky texture was not her forte and it did not compliment her at all. The sleeve was a major disaster and even though her makeup was done by Nabila's but her overall look did not suit her at all. Better luck next time Momal.
3. Ushna Shah
All that glitter is not so gold. Ushna Shah made a massive goof by choosing to wear this gold outfit. To be honest it is showing way too much skin and the overall outfit is technically a failure. This look is more of a party/dinner look not something you wear at an award show.
4. Noor Hassan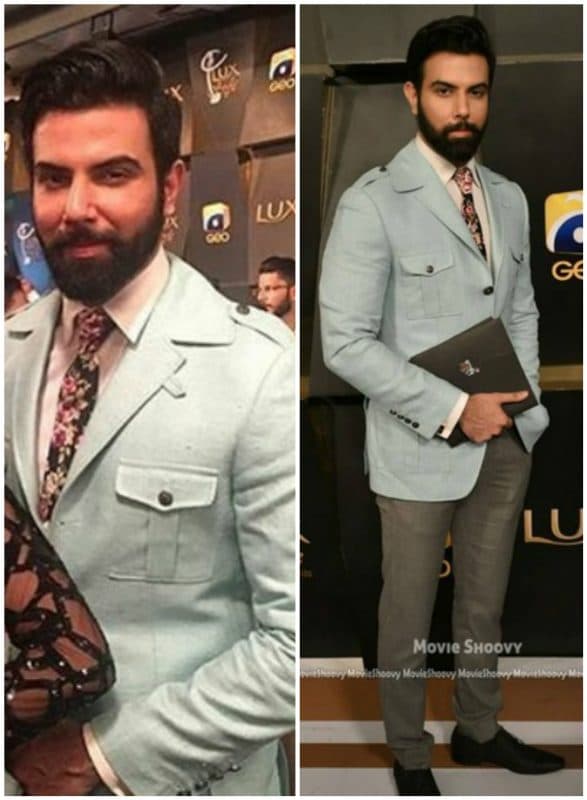 Noor Hassan is known to be one of the good actors in the drama industry but this outfit was not so good. This blur coat with a flowery tie, we must say was a really bad idea and a very good choice for an award function. The combination that he chose is not working at all. Sorry to say but he looks more like the FedEx guy rather than a celebrity at Lux Style Awards.
5. Sohai Ali Abro
What was she thinking when she chose this outfit? Sohai Ali Abro chose the worst outfit for the evening. Even though her performances set the stage on fire but her outfit, not so much. The cut and the overall style is a confusion between eastern and western, the necklace is a failed attempt for a statement necklace which does not go with the outfit at all. The overall look is a major wreck. What were you thinking Sohai?